We are using cookies to give you the best experience on our site. Cookies are files stored in your browser and are used by most websites to help personalize your web experience. By using this site, you agree to our Terms of use, Privacy Policy and Use of Cookies for performance, functionality and advertising.
Confirmation
LEDEX™ WL-070+
DENTAL CURING LIGHT
PATENT D182805

---
Wireless charging stand
No need to plug in the cable; No pogo pin required.

Built-in intensity indicator
Easy to interpret due to the built-in intensity indicator.
Simple operations
Clear display with simple functions, including the standard mode and ramp mode; easy to use.

Cure fast in 10 secs.
Having the high power 5W LED, this device can cure the composites over 3mm in 10 secs.

Never Shutdown After Continuous Use
Having the smart heat management system, the device will not be overheated after continuous use.

Varieties of optical fiber light guide rod
There are 3, 5, and 8 mm black or transparent optical fiber light guide rod to be applied.
Color Choices
(White, Black, Orange, Blue, Green, Red, Purple)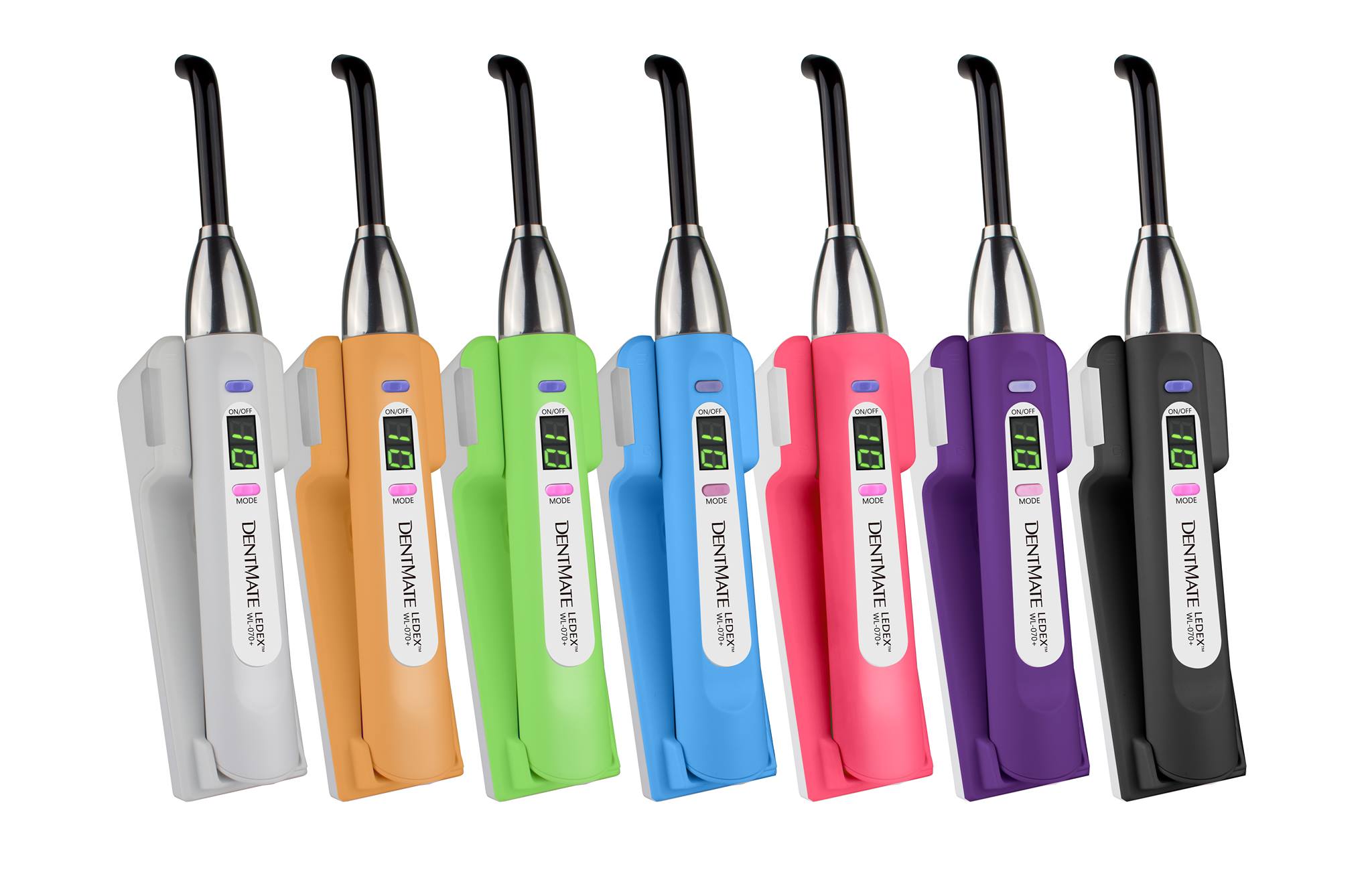 Specification
Handpiece
Light source: High power dental blue 5W LED (average lifespan: 100,000 hours)
Wavelength: 440-480 nm, peak: 460 nm
Radiant Intensity: Up to 1,200 mW/cm²
Light Guide Rod: Ø8mm optical fiber, Sterilizable in autoclave (max. T. 135℃ for 20 minutes)
Weight: 120 g (with battery & light guide rod)
Dimensions: Ø26 (max) x L156 mm
Wireless charging stand
Weight: 85 g
Dimensions: W45 x L135 x H40 mm
Battery
Type: Lithium-ion, 3.6V/800mAh
Charging Time: About 3 hours
Use Time: 40 minutes (200 times in 10 Sec. mode)
Power Supply
Type: Micro USB
Input: 100 ~ 240 V, 50-60 Hz
Output: DC 5V/2A
BACK
COPYRIGHT © 2019 DENTMATE. ALL RIGHTS RESERVED.
top